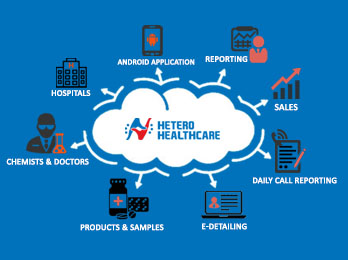 About Us
Hetero Health Care is a privately hold Pharmaceutical marketing company with its head quartered at Hyderabad. We market our own company products and other associated products. We aim to improve the quality life of the people with our product line and along with a continuous Research and Development process. Hetero Health Care team uses all its experience which it has gained from over a century to add its benefits for the development of human life span.
Our team are more committed, to finding tomorrow's cures and treatments for some of the most serious diseases. We believe that new medicines are an integral part of health care system, Hetero Health Care helps patients better by leveraging our industry-wide experience, deep technology expertise, comprehensive portfolio of Products and vertically aligned business model for the upliftment of the human life.
We are building on our company's strengths of vertical integration of marketing division with novel discovery Research, Process Chemistry, and Formulation Development.
Vision
To be recognized as an Innovative Pharamcuetical Company by satisfying the needs of the Customers, Doctors & Chemists
Mission
To reach Top 20 Pharamcuetical Companies in next 5 years
Our Divisons
ARV Division
Diaspa Division
Frenza Division
Gastro Divison
Generics(Alpha) Division
Genx Division
HHCL Division
Institution Business
KRIS Division
Oncology Division
Specality Care
Volga Division